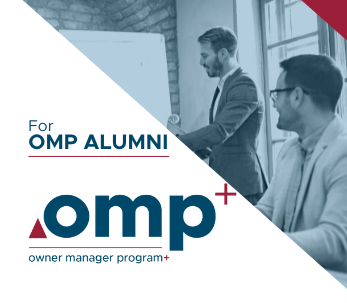 OMP+ Launch... extension to the flagship Owner Manager Program
OMP+ Launch: At the conclusion of the Owner Manager Program participants feel invigorated, motivated, re-engaged and inspired within their business. They have clarity and direction for the future and have made incredible connections with their peers and facilitators.
OMP+ was created at the request of OMP alumni that were looking to continue the OMP journey with ongoing connection, feedback, and development. The program is designed around panel and content sessions exclusively for OMP alumni, including quarterly one-day/night blocks. Whether you've just finished the program, or you participated many years ago, all OMP alumni are eligible for OMP+.
What's included in OMP+…
Quarterly review to assess how you're tracking
Reflect on whether you've been spending too much time in the business
An opportunity to revise your goals and make changes, where necessary
Continue to refine your strategy, tactics, processes and procedures
Ongoing learning and development, including facilitator and guest speakers
Connect with a broader network of like-minded businesses, facilitators and presenters
Recharge the batteries and jump back in with the enthusiasm you felt with you finished OMP
Take advantage of this unique opportunity to maintain the strategies developed in OMP and continue to achieve your personal and business goals. This is done through regularly accessing webinars, resources, tools and templates to continue to build upon your Owner Manager Program learnings.